Celebrate National Peach Month with us here at Breckenridge Brewery.
Scroll to see all the fun we are having this month! Including:
-August 8-14th we are celebrating PEACH WEEK with a Harvest Market, Peach Beer Dinner and some exciting peach flavored announcements!
Palisade Peach Wheat and Light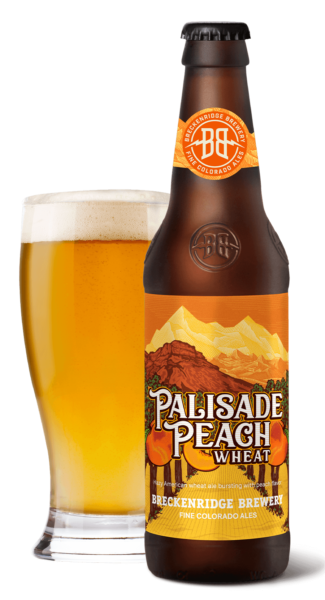 Made using only the finest peaches from the nationally recognized orchards of Palisade, Colorado, Palisade Peach Wheat is a laid-back porch-side refresher. This fruit-forward, unfiltered American style wheat ale is bursting with bright and juicy peach flavor!
Palisade Peach Light is just that — a light, unfiltered American-style wheat ale that gives you all the bright and juicy peach flavor at only 100 Calories! Made using the finest peaches from the nationally recognized orchards of Palisade, Colorado, Palisade Peach Light is packed full of peachy goodness with none of the guilt!
Experience a stay in the Breck Peach Pod, perched in the very orchard that our Palisade Peach Wheat Ale comes from. You and your guest can enjoy a tour of the orchard, hiking the West Slope, fresh air, and as much of this summery brew as you'd like while camping out at Talbott Farms.
This branch-to-bottle experience is perfectly in-season and ready to be enjoyed, just like a Colorado peach pulled straight from its tree.
The Breckenridge Escapod is the perfect place for a glamping getaway. Big enough for 2 adults and 2 small children, stocked with a pad for sleeping (pack your sleeping bags!), a mini kitchen, and surrounded by idyllic Colorado mountain scenery it has everything you'll need for your stay. Other amenities include a nearby outhouse and a personal gas fire pit.
Book the Escapod for 2-4 nights, all for the price of a 6-pack of Palisade Peach Wheat. Bookings will be opening up every 2 weeks to secure your stay in Breck's Peach Pod.
BOOKINGS OPEN MONDAY AUGUST 15
Our Harvest Market is to celebrate the beginning of the Harvest Season, specifically Palisade Peaches. So sip a Palisade Peach wheat while you shop from over 20 local vendors from around the area. Our friends from Talbott Farms in Palisade, CO will have a booth selling peaches freshly off the trees from Palisade, CO.
At Breckenridge Brewery, we're so fond of Palisade Peaches, we've teamed up with Talbott Farms to produce two year around beers appropriately called Palisade Peach Wheat & Palisade Peach Wheat Light, some of our most popular beers.
When you purchase a 6-Pack of Palisade Peach Wheat or palisade Peach Wheat Light you will get some free peaches to take home with you!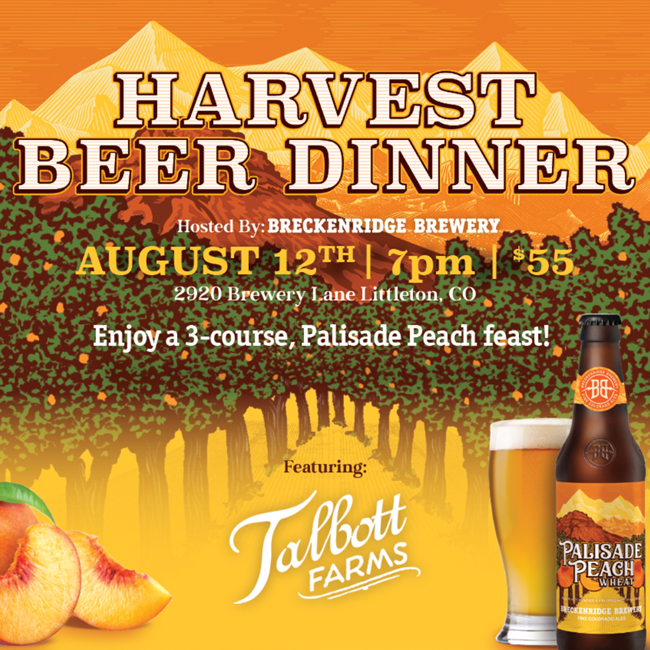 Culture czar Todd Thibault (Breckenridge Brewery,) and Joe Talbot (owner, Talbot Farms,) guide you through a 3-course, Palisade Peach feast created by the Farm House team of chefs. Set in our beloved outdoor beer garden, you'll enjoy a seasonal beer pairing alongside Rocky Mountain views! See menu below:
Course 1
Fresh and Caramelized Peaches, Baby Arugula, Burrata, Heirloom Tomatoes, Smoked Prosciutto, Crispy Shallots, Peach Basil Vinaigrette, Balsamic Glaze, Toasted Baguette.
Course 2
Peach Wood-Smoked Porkchops, Cornbread and Peach Stuffing, Palisade Peach Mustard Glaze, Braised Swiss Chard.
Course 3
Peach Wheat Cheesecake, Peach Gelee, Sweet Tart Crust, Dark Chocolate Crescent.
**As we strive to create unique and beer forward menus, we are unable to accommodate any allergies or special requests for this event.
GET TICKETS HERE (Click Book a Tour)